We provide you with:
- your fully customizable dropship website
- loaded with products from a supplier you choose
- it already looks great, see demo
- daily update of product data and upload of new products
- interface with Amazon, eBay, Rakuten, Google Shopping
- you pay a single low fee and no commission
- no hidden costs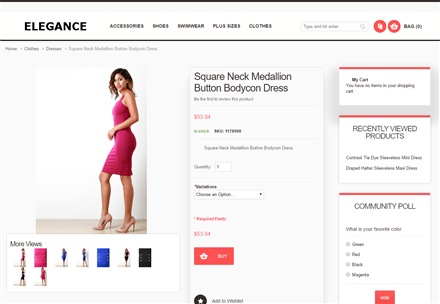 A possible product page layout of your new website.
Click the link above to browse our list of suppliers. Pick the ones that suit your concept - or contact us to onboard any supplier you want to work with outside of our list.

Step 2: Setup your website

Setup your website to receive payments via PayPal or any other payment provider. We have pre-selected all product from a supplier of your choice. You can customize that selection using our administration interface. You'll be able to choose markups per category or supplier. If your supplier is not on our list, no problem, just let us know. Click here to see a demo store.

Step 3: Start selling!

Start selling on your new website, your eBay, Google Shopping, and Amazon stores. We will keep stock and pricing data synchronized with your suppliers. We will also onboard new product according to your spec - per brand or supplier category.
We have been exploring the world of e-commerce since 2003. We have seen businesses succeed and fail. We will work with you to make your business a success.
We're there for you every step of the way. We will respond to all your queries promptly, handle any issues within a day.
Your website will be based on Magento - an industry standard e-commerce platform developed by eBay. It's the most mature and full-featured solution out there.
Click to see demo
everything your dropship business needs
Standard Plan is ideal for dropship business explorers such as yourself. There are no hidden charges. Here's what we provide as our Standard Plan:
Your own full featured Magento e-commerce website with up to 5,000 products from a supplier of your choice. This includes high performance Magento hosting with 50GB of disk space to fit all the product images you will use. Contact us if you need more products or disk space.
Magento platform is far more customizable than any of the other dropship solutions out there. It will enable your website to become whatever you need it to be as your business grows. You will have access to thousands of available extensions and themes available on Magento Connect and Template Monster built over more than a decade of Magento community effort.
You can automatically send & update products to your Google Shopping, eBay, Amazon, and Rakuten shops.
Never sell products you cannot deliver - we will sync your catalog daily for pricing and stock information.
If you have requirements which are not covered by this, please let us know.